Best UPSC English Video Classes shortlisted on every topic from YouTube.
Full syllabus covered.
  
Go back to UPSC PT GS1 Online Video Classes English [Full Syllabus] Click Here 
UPSC PT GS1 वीडियो क्लासेस हिंदी  [Full Syllabus] में देखने के लिए  यहां क्लिक करे 
YouTube Classes as per UPSC PT Official Syllabus (Sufficient for Exam)*:
Complete Topic covered
Best videos are shortlisted based on Syllabus relevance, Syllabus covered & Quality.
Watch in order
Class 1
Any doubts on this topic? 
"Talk to Teachers & ask Doubts (Online LIVE)"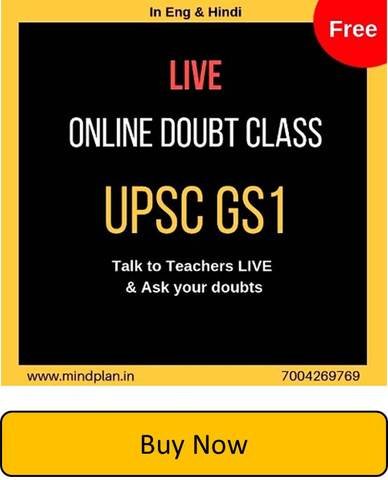 *If you find any video better than those on this page Whatsapp us its link on 7004269769 with this page link. Also Whatsapp us your suggestions. UPSC, PSC, SSC & other exams Video Classes [Complete Syllabus] are Coming Soon for FREE. Mindplan.in will always give the best on its website.
NOTE: None of the above content & videos are an advertisement. They are copyright of their respective channel owners and not by us. They are shared for free as per YouTube API Terms of Service & Content Usage policies of respective sites to help self-studying students.