1. What you get?
1.1. Format

Full BPSC PT Official Syllabus* Notes

 

[Mindplan.in Exclusive]
Printed + Updates
Updates provided in Mindplan App [android] [Mindplan.in Exclusive]

Language:

Hindi

Prepared by a Team of Bihar & Delhi professors with 20+ years

experience in BPSC & only BPSC.
1.2. Updates
Notes updated Till Exam or 12 months from last BPSC PT exam date, whichever comes earlier. [Special Initiative. Mindplan.in Exclusive.]
1.3. Super-Subscription
Extended Access

 

to App contents provided till BPSC Mains exam for

FREE

.
[Note: updates will only be provided Till Exam or 12 months from last BPSC PT exam date, whichever comes earlier. However you can access all app-contents till Mains exam]
1.4. All New Editions are 100% Upcoming BPSC Exam Specific
MAJOR changes / edits done for every upcoming BPSC exam:

Upcoming BPSC PT Exam specific Double Stars (

**)

: Must revise points for upcoming BPSC PT highlighted with "

**"

(Double stars)
Thousands of factual changes

Thousands of

edits

Thousands of

 updates
Totally different analysis

 

after every exam

Why go to Patna / Delhi? Patna & Delhi BPSC team comes to you.
Note: In this product, only updates are provided in the app.
2. 78%+ Questions matched in BPSC PT Exam question paper evidence video
[Mindplan.in Exclusive]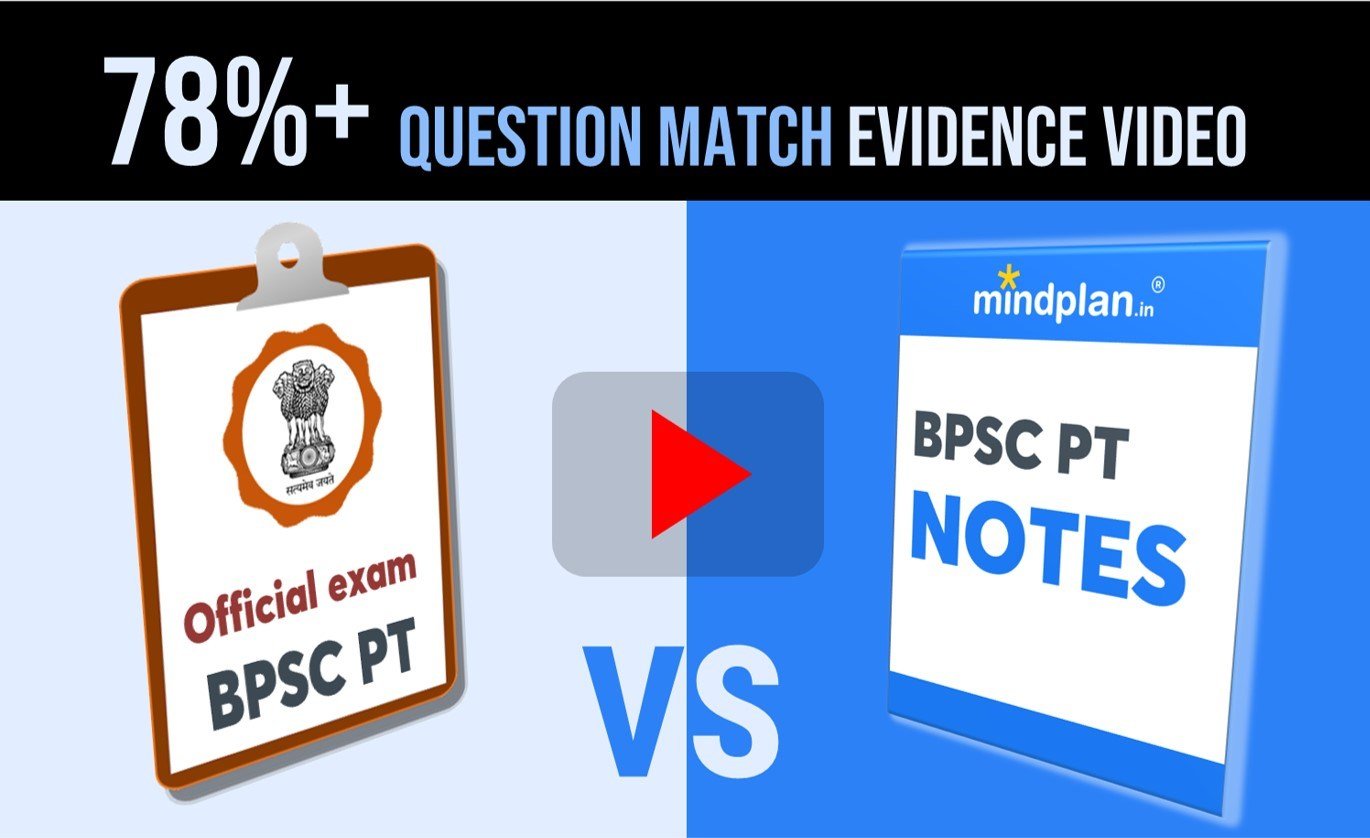 3. Why mindplan notes ?
8 EXCLUSIVE reasons:
4. Download sample [Hindi]:
 5. Shipping & In-app access
5.1. Printed materials: Same day shipping / order dispatch:
Generally orders shipped

 

within 1 to 2 working days.
Sooper-fast service: Generally orders before 12 pm 

are dispatched same working day.

Tracking details emailed within 1 to 2 working days

.

.
Delivery within 5-12 days.
(excluding Sundays & National holidays.)
5.2. How to access updates in Mindplan App [only on Android phones & tablets]:
Its simple:
Download mindplan android app: Click here to download
Login with your registered Gmail ID.
Click "

Categories / My Library

" tab in the app. You can access it here.
Access to all in-app updates are generally provided within 2 working days. [excluding Sundays & National holidays].
6. More details
6.1. Package details
Full BPSC PT GS Official Syllabus covered: Download Official BPSC Prelims GS Syllabus-Click here
Ancient History (Bihar Special)
Medieval History (Bihar Special)
Modern History (Bihar Special)
Ancient Indian History
Medieval Indian History
Modern Indian History

Indian Polity

Salient Features of History of Bihar (Bihar Special)

General Geography – India
General Geography – Bihar and World (Bihar Special)
Geographical division of Bihar and its major river systems.
Bihar GK Notes

GS – Biology

GS – Chemistry
GS – Physics
Indian Economy and major changes in the economy of Bihar in the post independence period.
Bihar & General updates
BONUS – Mindplan.in Special BPSC Prelims Notes – High chances to come in exam [MUST REVISE]
Note: Quant / Maths / Aptitude etc. notes are not provided as it is subject to practice.
6.2. Prepared by Super-Qualified BPSC GS Team:
Bihar + Delhi former university Professors with 20+ years of experience in conducting the Official BPSC Exam:
Prof Dr. Kauleshwar Rai, History, Patna University
Prof Dr. Prabha Rao Singh, Veer Kunwar Singh University
Prof Rajnish Singh, Magadh University
Prof Shashi Ray, Delhi University, Delhi & Veer Kunwar Singh University and other experts

6.3. Total no. of pages: Not fixed as regular updates are provided. However, we have kept it least possible to facilitate sooper-quick study & revision. In short "jitna jarurat hai, utna hi".
6.4. Any issues with order?
Click here to create a support ticket
Quick resolution- mostly within 48 hrs
[Sunday / National holiday off]
6.5. Didn't like it?
7 days easy returns & refunds policy.
No questions asked returns.
If possible, please email us a feedback. This may help lakhs of students as mindplan team takes quality very seriously.
6.6. Product / New purchase related enquiry: Please visit "Contact us" page.
7. FAQ
i. Mindplan app is available on android / iOS / computer?
Available only for Android phones & tablets.
ii. I have waited for 2 working days after placing the order and did not receive the access in app. What should I do?
This rarely happens as the entire system is automated, but in case you haven't received access within 2 working days after your purchase, don't worry. We got your back. Just click here to create a support ticket [Quick resolution within 3 working days] and share below details:
your order and payment confirmation email
the "product & language" you purchased
Our Technical team will provide access again asap. Kindly do not send details on WhatsApp, Facebook etc. We provide support only via support tickets.
iii. Have more questions?
Kindly refer to the Frequently Asked Questions page. All questions are answered here.
8. Still asking why mindplan.in notes?

Summary:
Razorpay Trusted Business badge on payment page

Google

– Excellent ratings

Playstore- Excellent ratings
Amazon- Excellent product ratings
Amazon- Excellent publisher [Seller] feedback
78%+ Qs match
Qs match

evidence video:

 Must watch
Only Mindplan.in publishers share

 evidence transparently

Must revise

points marked

**
Save 1000+ hours
Save lakhs
Save effort
Delhi + Bihar team creators
Freedom from coaching institutes
Exactly as per the latest Official BPSC syllabus
Smart study
Sooper-quick revision
"Jitna jarurat hai, bas utna hi"
Remove fear

of

"kuch reh tho nahi gaya?"

  before entering the BPSC exam hall.

Revise at least once [specially ** highlighted]

before entering BPSC exam hall to ensure if you haven't left out anything important. It wont take much time. 

Its

really fast.

You'll be amazed.
How to buy?
Click Add to cart" or "Buy Now"  and then click "Checkout" button above to purchase this product.