Last date for registration: 28th December 2021
50% OFF Coupon code : 7JPSCMAINS 
-For purchases on website "mindplan.in" only. Not applicable for purchases on App.
-Few coupons left. 
Evidence Video 1st
77% Questions matched in 6th JPSC MAINS question papers in English & Hindi. No stories. Direct evidence. 
What SDM's say about Mindplan Mains Test Series?
Key Features
70%+ Questions matched from last JPSC Mains Test Series

[Mindplan Exclusive]

– This is BIG!
15 Full-length + Official JPSC Pattern Test Series

[Mindplan Exclusive]

– This is BIG!
Write From Home

[Mindplan Exclusive]

Get your Answers Checked by Former JPSC Examiners

[Mindplan Exclusive]

– This is BIG
Detailed Feedback

[Mindplan Exclusive]

– This is BIG!
Scores
Strictly as per the Official 7th JPSC Mains Notification guidelines.

[Mindplan Exclusive]
Download FREE samples
Download Free Sample of answer checked copies. This is JUST A SAMPLE. Not necessarily JPSC Mains answer copy.
Click here
How do I answer JPSC Mains Test Series from home?
Note:
– Q papers and Upload link are shared as per the Test calendar. 
– Kindly follow "Test calendar" instructions.
Test Calendar
Note: Management may make changes in the Test calendar, with or without any prior notice if necessary. Question papers are non-printable.
Test Series Details: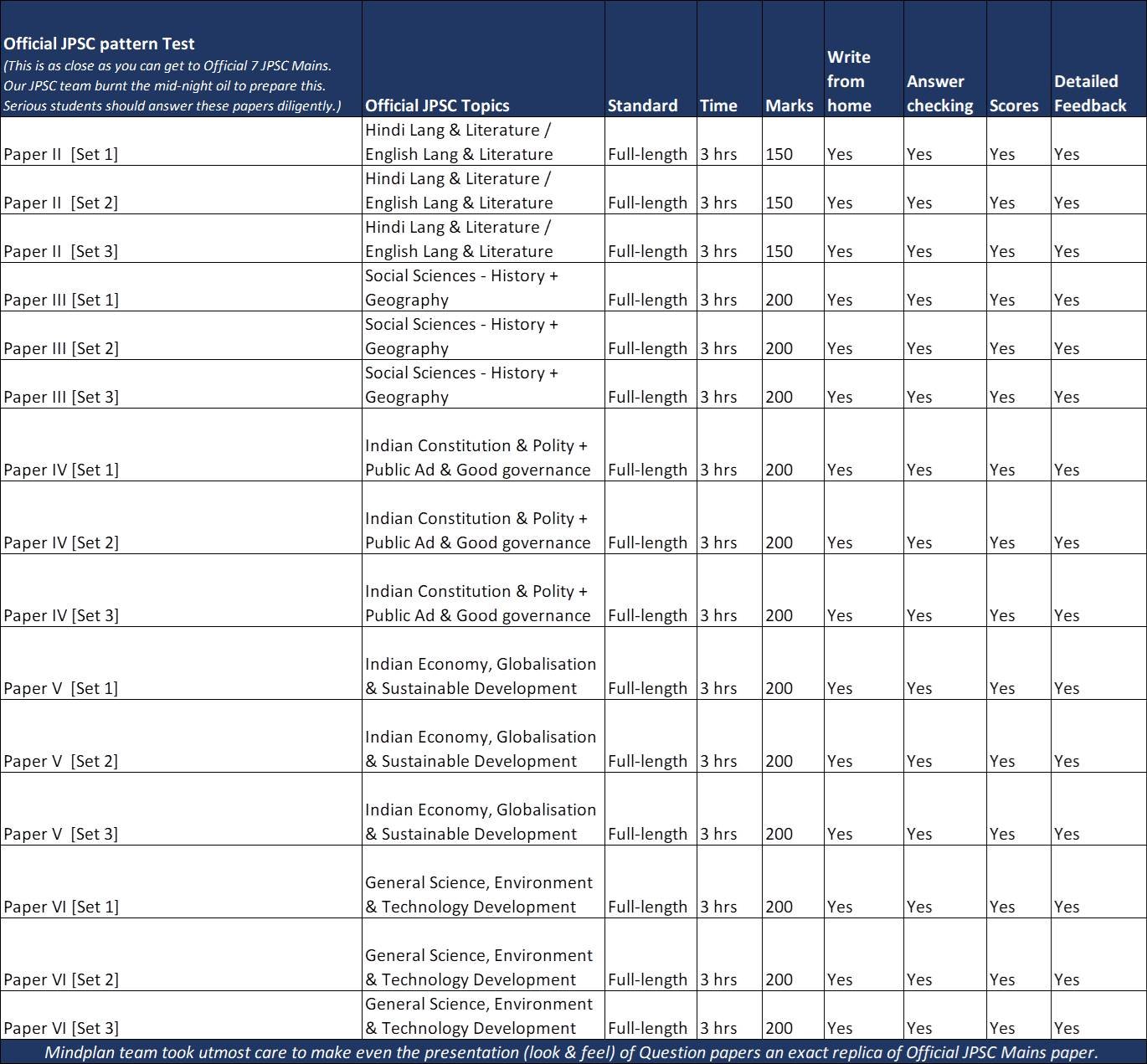 More Details
Question paper:
– Access given to the Question Paper in the Mindplan app 48 hrs before the Mock Test.
– Downloadable in app. Non-sharable & Non-printable to avoid piracy.
– Set 1 & 2 drafted with more questions to give a much more in-depth practice to students.
– Bilingual Question papers  i.e. in Hindi & English.
Pattern: Strictly as per the 7th JPSC Mains Notification guidelines.
Answer writing: Hindi / English. You can choose your preferred language for answer writing later.
Write from home: Yes. Upload pdf of your answer copies on our link (takes 3-5 mins only). Upload Link will be emailed.
Answer Checking: Yes.
Detailed Feedback: Yes. You might underestimate how helpful this single exclusive feature can be. You may want to watch the Medha Sinha, SDM 30 seconds video of how helpful this feature was to her.
Why generally, no-one gives this service?
– it is a time-exhaustive and expensive process.
– only a highly experienced SME (subject matter expert) can do it.
– professor's credibility is on the line.
Scores: Yes
Is this refundable? This is a digital product and is therefore non-refundable.
Download Sample of answer checked copies of Toppers. This is not a JPSC Mains answer copy but just a random sample for your understanding. This sample may not be a JPSC Mains answer copy or of a JPSC mains student. Click here to download a random sample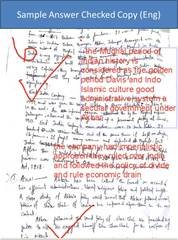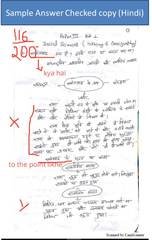 Disclaimer: This is not a JPSC Mains answer copy. Just a random sample for your understanding.
FAQ
Mains exams are conducted quickly after PT exam and shipping / courier might take days to reach me. How quickly can you provide access? Within 24 hrs. That's it. After you order, you will get access to all the materials in your Mindplan app within 24 hrs. We understand the stringent timeline problem and how it prevents thousands of students from having access to high quality updated study materials for Mains preparations. Mindplan App has solved this problem.
Why can't I get print shipped to my address? Mains test series are conducted for a much longer timeline than PT Test series. As you are aware, Mains exams are generally conducted quickly after PT Exam, which creates an URGENCY among students and does not provide enough time for drafting, publishing, distribution and logistics. This also makes it difficult to provide service and conduct mains test series in the stringent timeline for all students. Don't worry, Mindplan app has solved this problem. 
Why are the materials non sharable or non printable? To prevent piracy.
How do I Upload my Answer copy? Its very simple. Just ONE upload Link will be emailed to all students 2 days before the test series begin date. Just click on the upload link and upload your answer copies in PDF format (takes less than 2 mins). Rest we will take care.  🙂
Note: Kindly check Inbox / Junk / Spam for mail.
Still not convinced? Try this FREE >>>
Write answers to important JPSC Mains 2022 questions and get your answers checked and
evaluated by Jharkhand's best JPSC Mains expert professors 100% free.
Join Free 
WhatsApp Group & enjoy unlimited FREE JPSC Mains 
Answer Writing Practice
Note:
– Max 4 Free Mindplan Private groups available. 3 groups full.
Only 1 left.
Closing soon.
– 1 Question is shared by JPSC professors every day. 
– Answer copies of 1st 5 students will be evaluated by Jharkhand's JPSC Mains expert professors.
India's Most Official JPSC Mains Test Series


Exactly like official JPSC Exam.


This is as close as you can get to the official 7 JPSC Mains exam.

 
Limited seats. Few  left. Registration closing soon. 
Answer JPSC. Before JPSC.