Note: "Current Affairs PDFs- (National, International & Jharkhand special CA )" service is not provided on amazon / flipkart purchase.  We would love to give you the important PDF notes, but PDF service is not allowed on these platforms. Therefore this service can be provided only if on purchases made from mindplan.in. Rest everything is same.
Flat 40% OFF coupon on PDF orders: MINDPLANPDF
Flat 20% OFF coupon upto Rs 500 on Print orders: MINDPLANPNT (Out of Stock) 
No one gives Jharkhand exam notes as we do.
80%+ Q matched in JPSC evidence video:
72%

Questions matched

in 6th JPSC PT GS1 question paper:

Click here to view evidence
86%

Questions matched in 

6th JPSC PT GS2 question paper: Click here to view evidence
1. Package details
:
Full Syllabus covered: FULL Official JPSC Prelims GS Syllabus covered
1. GS1
GS1 Topics (Official Syllabus)
(A) History of India
(B) Geography of India
(C) Indian Polity and Governance
(D) Economic and Sustainable Development
(E) Science & Technology
(F) Jharkhand Specific Questions
(General Awareness of its History, Society, Culture & Heritage)
(G) National & International Current Events
(H) General Questions of Miscellaneous nature
2. GS2
| | |
| --- | --- |
|   | GS2 Topics (Official Syllabus) |
| A | History of Jharkhand |
| B | Jharkhand Andolan |
| C | Distinguished identity of Jharkhand |
| D | Jharkhand's folk literature etc. |
| E | Jharkhand Literature & Authors |
| F | Major educational institutes of Jharkhand |
| G | Jharkhand Sports |
| H | Jharkhand's Land Related Laws / Acts |
| I | Development and Geography since 1947 |
| J | Jharkhand's Industrial Policy |
| K | Major Industries of Jharkhand |
| L | Major schemes of Jharkhand |
| M | Jungle Management etc. in Jharkhand |
| N | Environmental facts of Jharkhand state |
| O | Disaster Management in Jharkhand |
| P | Miscellaneous events related to Jharkhand |

 Download free sample:
Superfast Access (Delivery):
Access to notes for all orders before 1 pm are given same day by 7 pm.

Access to 

notes for

 

all orders

 

 orders after 1 pm are given the next day by 3 pm. 
PDF files are shared via Google Drive. They are not downloadable or printable.
If you want printed please select Printed from the option above.
For more details check "Special Features" and "Other details" below.
2. Special Features:
4

"Mindplan.in Exclusive"

 features:
JPSC Current Affairs Notes updated till exam
Jharkhand Special Current Affairs, National Current Affairs & International Current Affairs will be covered in this JPSC book notes till the JPSC PT Exam is conducted successfully (i.e. even if JPSC prelims exam postponed, Mindplan team will update JPSC Current Affairs every month till exam is conducted). No need to buy materials again and again.

All Important Points Highlighted with

**



Questions with high chances of being asked in upcoming JPSC PT Exam are highlighted with
2 STARS
i.e.
**
Just 40 mins / topic*
Do super-quick study by covering every topic in
just 40 mins
.
Syllabuswise. Topicwise. Pointwise.
100% Official JPSC Prelims Syllabus covered in this JPSC Notes in Hindi & English. ALL Best Books for JPSC Prelims in 1 Short & Crisp "JPSC Book Notes": Jharkhand GK / Jharkhand Samanya Gyan Jharkhand Current Affairs, Jharkhand History, Jharkhand Geography, Polity, Economics, Science Tech & Environment, Other Current Affairs and General knowledge etc.

3. Other Details:
Pattern: Pointwise / One liners / Tables / Infographics etc.
Created by:  SUPER QUALIFIED JPSC TEAM
Former Professors of Jharkhand and Delhi with experience in Official JPSC Exam.
Mindplan.in Experts with experience in PSC Exams even before Jharkhand was formed.
Inputs from JPSC toppers.
Creator's attitude: Created for quick study & super-quick revision of Full JPSC syllabus.
Language: English / Hindi (हिंदी).
Pages: 1000+
How to buy?: Click "Buy it now" button above to purchase this product.
Contact: Please visit "Contact us" page.
Frequently asked questions
What is given in Current Affairs? 
Complete Jharkhand, National and International current affairs are covered till 1 month before the upcoming exam is conducted successfully. (Eg. If exam is in May you will get current affairs "till the month of March" which will be emailed in April)
How can I access the updated current affairs?
Access link will be emailed within 5 days from date of purchase. Jharkhand current affairs, National & International current affairs will be updated by 25th of every month (i.e. you will get January Current affairs by 25th February, February current affairs by 25th March and so on).
Note: Access link is emailed to the same email id that you enter while purchasing these "JPSC Easy book notes."
6 Reasons why "Mindplan Easy Book Notes" are reliable for exam preparation: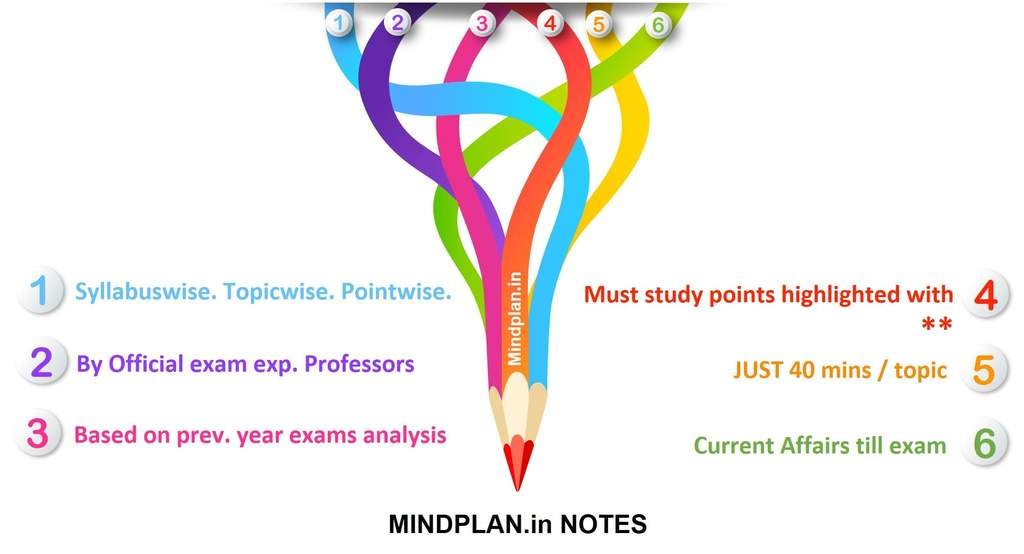 7-10 JPSC 2021 Notification & Syllabus- Download
20% OFF Coupon code on print order: MINDPLANPNT
Kindly click above "Buy It Now" button to buy "JPSC Easy Book Notes"
Bas itna he!